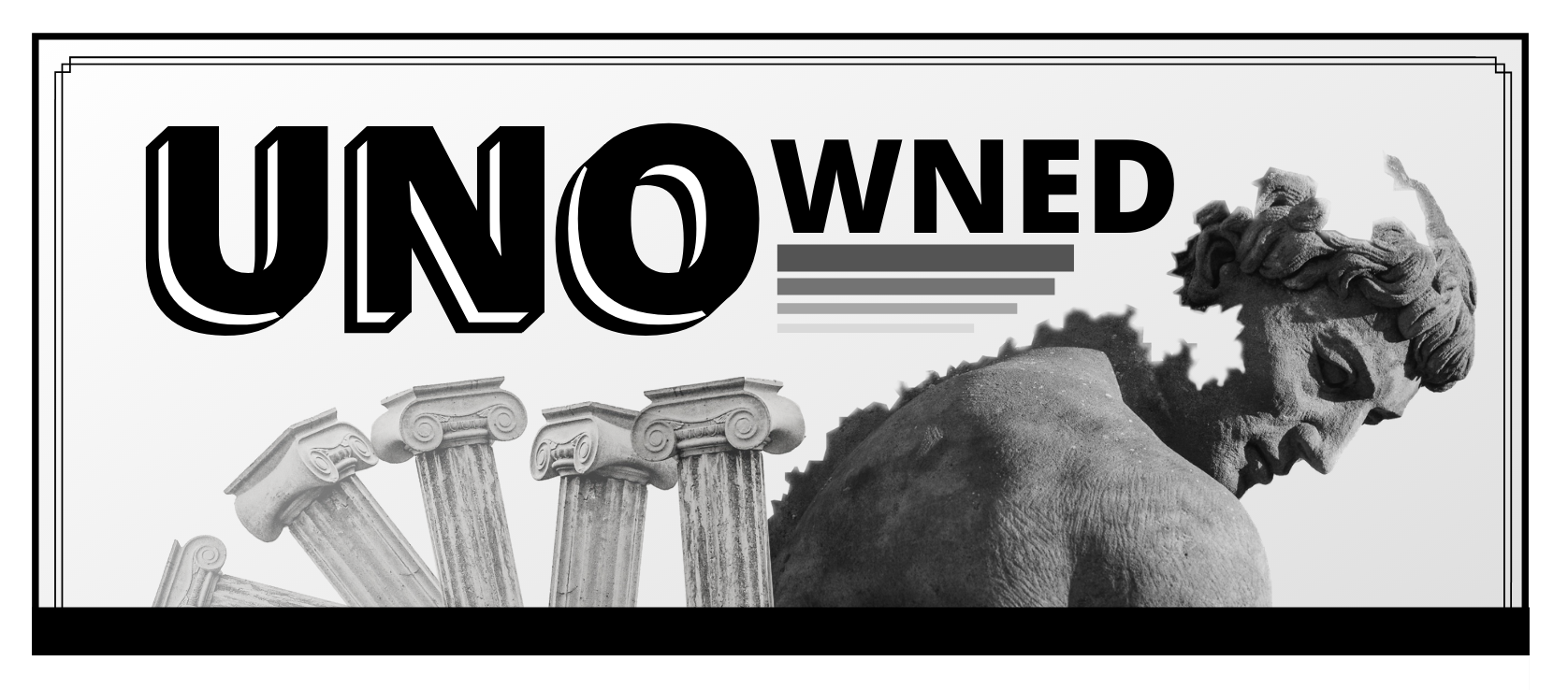 UNOwned
UNOwned is a GM-less, tabletop role playing game about remembering lost memories of gladiators fighting in the arena. The game can be played in a group, competitive, or as a solo player. A game should take about 1 to 3 hours. Game prep takes less than 3 minutes as you will create your gladiator as you play.

UNOwned uses a standard UNO card deck and a d10 to resolve actions and generate a gladiator's background through the course of battle in the arena. However, if you don't happen to have an UNO deck, the Deckless Oracle sheet can be used in lieu of cards. Each card played either progresses your character's memories (through linked question prompts) or pushes the combat forward. In either case, you will be describing the past or the present.
---BRIEF GAME SUMMARY---

You are a gladiator in ancient Rome. Sword and shield are the tools of your trade. You fight for the glory of your master because you have no choice. Your life will be forfeit if you choose anything else. It is a hard life but it is yours. Little that it is.
Your memories are steeped in blood. The past so long ago that your life before the arena is a series of blurred images. You have been fighting for so long that it is all you remember - save one precious memory.
Every day you draw breath is a small victory. Fragments of your former life come back to you in the heat of the moment. Hope returns. Your life creeps back towards your grasp. If fortune and the Gods are on your side, you will survive long enough to win your freedom.
Can you remember enough of your past to want to reclaim it by leaving the arena behind? Will you come to enjoy or loathe the person you once were? Can you survive long enough against your fellow gladiators and fierce beasts? Only the Fates know these answers... and if time allows, so will you.

---WHY YOU SHOULD DOWNLOAD AND PLAY---
If you are a person who likes weird, interesting, and unique TTRPGs, then you will enjoy UNOwned. The way the cards resolve and force you to make decisions about a character's backstory on the fly has already created some amazing tales. When you play, I'd love to hear about your gladiators!
If you want to support an indie TTRPG designer who makes monthly games, then I am grateful. To make bigger games with more art takes support. If you've read this far, please hit the follow TheBigTabletop in the upper righthand corner (if you aren't already following). A little support goes a long way. So thank you for taking the time to check out my games.
---SPECIAL THANKS---

I'd like to thank @CompletelyNobo on twitter for the initial prompt of "Make a TTRPG using a deck of UNO cards," for this game. It takes a community to make games and I am grateful to meet such interesting people.
Download
Click download now to get access to the following files:
UNOwned - 1- Rules.pdf
2 MB
UNOwned - 2 - Character Sheet.pdf
163 kB
UNOwned - 3 - Deckless Oracle.pdf
530 kB